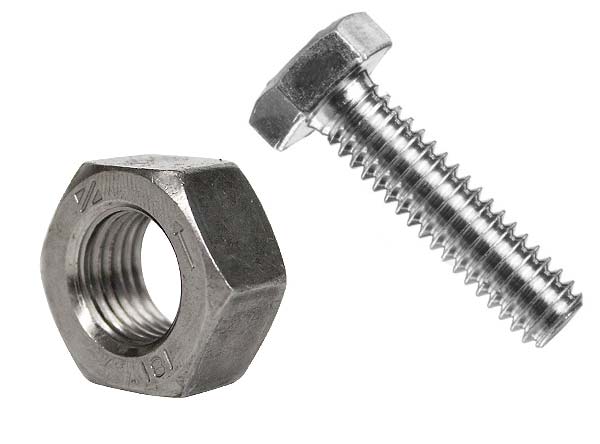 Get Quote's
Our 310S Stainless Steel Fasteners product range includes 304 Stainless Steel Bolts, Hexagon head bolt, Hexagon head screw, Round head square neck bolt, Hexagon socket head cap screw in full thread and half thread, Hexagon wood screw, Hexagon socket button head screw, Hexagon socket button flange screw, Hexagon socket counter sunk head cap screw in full thread and half thread, square nuts, square weld nuts, hexagon weld nuts, thick nyloc nuts, hexagon flange nuts, threaded rods, dowel screws,Plain / Flat Washer, Spring Washers, Countersunk Washer,Tooth Lock Washer and many more. We provide products as per DIN, ANSI, JIS standards.
Calico Metal Alloys LLP carries a variety of 304 Stainless Steel Nuts from Carbon Steel, Stainless Steel and High Nickel Alloy -F467 NiCu 400 (Monel) and commercial 18-8/304, 316 Stainless Steel. We supply 310S Stainless Steel Nuts at best price..Our 304 Stainless Steel Fasteners plant is equipped with various testing facilities like Tensile Testing Machine also known as tension testing. We also conduct other tests like Hardness Test, IGC Test, Positive Material Identification Test to ensure that all the product going out of our manufacturing plant are the best in terms of quality.
Stainless Steel 310S is an austenitic stainless steel that combines excellent high temperature properties with good ductility and weldability. It is typically used for elevated temperature applications as its high chromium and nickel content provide solid corrosion resistance, excellent resistance to oxidation, and superior strength in temperatures up to 2100°F. Due to its high chromium and nickel content, it is superior to 304 or 309 stainless in most environments.
The higher alloyed stainless steels generally have excellent strength at elevated temperatures along with outstanding resistance to creep deformation and environmental attack. Therefore, Alloy 310S is used widely in industries such as heat treatment and chemical processing. Some examples include:
Applications
Furnace Parts
Oil Burner Parts
Heat Exchangers
Welding Filler Wire and Electrodes
Annealing Covers
Combustion Tubes
Fire Box Sheets
Also Read :
Type of Stainless Steel Grade
Chemical Composition
Grade

C

Mn

Si

P

S

Cr

Mo

Ni

N

310

min.
max.

-
0.25

-
2.00

-
1.50

-
0.045

-
0.030

24.0
26.0

-

19.0
22.0

-

310S

min.
max.

-
0.08

-
2.00

-
1.50

-
0.045

-
0.030

24.0
26.0

-

19.0
22.0

-
Mechanical Properties
Grade

Tensile Strength (MPa) min

Yield Strength 0.2% Proof (MPa) min

Elongation (% in 50mm) min

Hardness

Rockwell B (HR B) max

Brinell (HB)
max

310

515

205

40

95

217

310S

515

205

40

95

217
Physical Properties
Grade

Density (kg/m3)

Elastic Modulus (GPa)

Mean Coefficient of Thermal Expansion(m/m/0C)

Thermal Conductivity(W/m.K)

Specific Heat 0-1000C (J/kg.K)

Electrical Resistivity (n.m)

0-1000C

0-3150C

0-5380C

at 1000C

at 5000C

310/S

7750

200

15.9

16.2

17.0

14.2

18.7

500

720
Calico Metal Alloys LLP exports their products to countries like UAE, Bahrain, Italy, Indonesia, Malaysia, United States, Mexico, Chine, Brazil, Peru, Nigeria, Kuwait, Jordan, Dubai, Thailand (Bangkok), Venezuela, Iran, Germany, UK, Canada, Russia, Turkey, Australia, New Zealand, Sri Lanka, Vietnam, South Africa, Kazakhstan & Saudi Arabia.